Check Out UTOPIA
Thu Jan 24, 2013 4:31 am by Admin
Utopia Forum is almost complete and is now ready for all new members and visitors.
The forum is a little different to here as it uses a single page forum which puts all the topics on one page with important threads globally pinned at the top of the page.
Like i said we are ALMOST complete but we are still playing around and moving things about so please bare …
Comments: 0
pravote
Free Top Site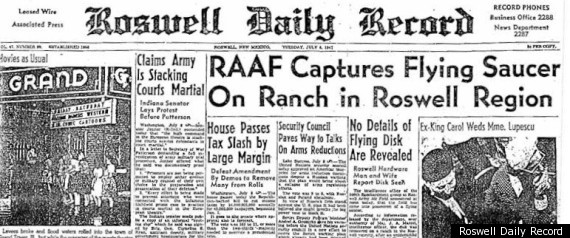 Roswell UFO Controversy: Former Air Force Officer Says Gen. Ramey Lied To Cover Up Space Ship Crash
The Roswell UFO controversy may be 64 years old, but it shows no sign of heading into retirement.
One thing we know for sure: On July 8, 1947, the front page of the Roswell Daily Record proclaimed that a flying saucer had been captured by the Roswell Army Air Field.
The U.S. Air Force had issued a press release that day stating that a flying saucer had been "captured," and photos were released of soldiers examining metallic-looking objects, presumably pieces of a crashed balloon.
Then the controversy began. At a press conference later that day in Ft. Worth, Texas, Air Force Brig. Gen. Roger Ramey essentially recanted the entire story, announcing instead that the debris was simply pieces of a fallen weather balloon.
Speculation of what really happened has never truly ended. George Filer, a retired Air Force intelligence officer, told The Huffington Post that he believes Ramey was forced to lie about the Roswell incident.
And, in news that will come as a shock even to ardent UFO researches, he told The Huffington Post in an exclusive interview that Ramey's wife told him he was "embarrassed about having to lie about the weather balloon."
WATCH FILER DISCUSS A CRASHED UFO AND ALIEN THAT WAS SHOT AT FT. DIX IN N.J.
[youtube][/youtube]
SOURCE AND MORE>>
http://www.huffingtonpost.com/2011/07/22/roswell-ufo-cover-up_n_904039.html
Admin




Posts

: 617


Join date

: 2010-10-23




---
Permissions in this forum:
You
cannot
reply to topics in this forum